AN EXCLUSIVE INVITATION
Hello Extraordinary Woman
You've landed here because you were invited to experience the transformative power of Soul Coded House.
We've created as a destination for you to come and design your reality, in a way that aligns your purpose with your passion and brings grace and ease to the realisation of your big, bold visions.
We're building Soul Coded House to be a sanctuary that supports you in unlocking your full Divine potential.
When you join us you'll also connect to a growing community of like minded individuals, who share your deep love of life and your commitment to be an agent of change and evolution in your world.
Quantum Leaps are normalised in Soul Coded House, we actively encourage you to elevate your presence and impact, get crystal clarity on your path forward, and grow your income in ways that excite you, so that you thrive in the things you express and do.
The World NEEDS Who You Were BORN T0 BE. 
Soul Coded House is a sacred space where I bring together my 25 years of experience in well-being, personal development, and the business world.
It's my honour to share the tools that have transformed countless lives and will help you reach new heights.
Step into an atmosphere of limitless inspiration and transformation, where your confidence, values and worth are amplified. 
Through Soul Coded House, you're encouraged to master your intuition. This will sharpen your ability to connect with opportunities and people who are divinely placed on your path for your highest good.
You'll be seen and heard in ways that unlocks the  magnetism and brilliance at the very core of your being. As you free this power It will radiate in every aspect of your life.
Learn to speak about your work with the kind of clarity that allows others to step into your world with an empowered YES. You'll be shown how your message can attract those who align with your mission.
Embrace the realisation that every big vision you have comes directly from the blueprint of your soul. Trust in these visions as they guide you towards fulfilling your purpose.
At Soul Coded House, we believe in empowering individuals to become their own authorities and sovereign beings.
You have the capacity to create a reality where you're highly resourced in every way imaginable - including financial abundance.
Experience freedom by opening to receive everything you need to thrive.
Together, let's embark on this sacred journey towards personal growth, professional success, and spiritual fulfilment through Soul Coded House.
I'M IN
MONTHLY LIVE ONLINE SESSIONS
Join us for our Monthly Live Online Sessions - a warm and inviting space where we come together to empower and uplift each other.
Envision the clarity you'll gain as we delve into what truly matters to you, inviting you at every turn to find your path to success.
Our sessions are filled with wisdom that will help you to cultivate meaningful connections and grow your community with ease.
But it's not just about work – it's about celebrating YOU!
We want to acknowledge your wins, honour your shifts, and recognise the progress you're making towards your goals. 
You'll get to bask in the joy of all that you've achieved.
And let's not forget about shedding what no longer serves you. Together, we'll release anything holding you back so that you can unleash your full potential. By freeing yourself from unnecessary burdens, you'll create room for exponential growth and expansion.
Now is the moment to ground your visions firmly into reality.
Take action and join us in bringing your dreams to life as we embark on this exciting journey together.
Secure your spot today and get ready to embrace all that awaits!
I'M READY TO JOIN
HELLO GORGEOUS!
I'm Tash Mitch, your Coach, Mentor, Soul Connected Artist, Business Strategist, Healer, Channel and Lifestyle Curator.
For more than 25 years, I've been deeply immersed in the world of personal development.
But that's not all – I also bring a wealth of marketing and sales experience from my time in the TV & Music Industries.
You see, I understand what it's like to trust my own intuition and follow the path that resonates with my soul. And right now, my mission is to create a positive impact on people's lives while empowering them to achieve their dreams.
In fact, I'm on an exciting journey towards reaching my first £1 million in annual revenue for my Soul Coded brand!
So why not join forces with me?
Together, we can rise above any challenges and embrace our true potential. 
 WHAT OTHERS HAVE EXPERIENCED
IN SOUL CODED
KYLA WILLIAMS
Healer & Guide
There is a depth and an expansiveness to how Tash can see your unique essence, as well as, truly honour the greatness that is awaiting your discovery. I've always felt seen in a way that serves as a constant reminder of who I am and my commitment to why I'm here.
DENISE ALAMO
Oracle & Healer
I'm not the same person I was, the transformation with Tash's work has been huge. I no longer spin my wheels, and am a lot clearer about how to structure my day and grow my business. I now have the tools to transmute and lift energy at the click of my fingers.
JEN DODSON
Vibrational Artist
When Tash Mitch enters your life you'd better strap yourself in. . . prepare to be stirred, even challenged, definitely expanded and yet distilled - all in the most beautifully authentic, caring and cosmic way. Tash has honed the craft of excavating deep into the core of one's being with a laser sharp focus in order to make visible and tangible those parts of us that we are perhaps unable to currently reach, acknowledge or even own.
EIMEAR STASSIN
Transformational Soul Coach
Tash teaches in the most magical and quantum way. I'm such a different person as a result of her teachings, there's an invitation to develop both commitment and discipline in myself through her work, and I witnessed myself growing because of this. Her consistency was a big gift. My own trust in my ability to be present and show up in a big way got amplifed as a result.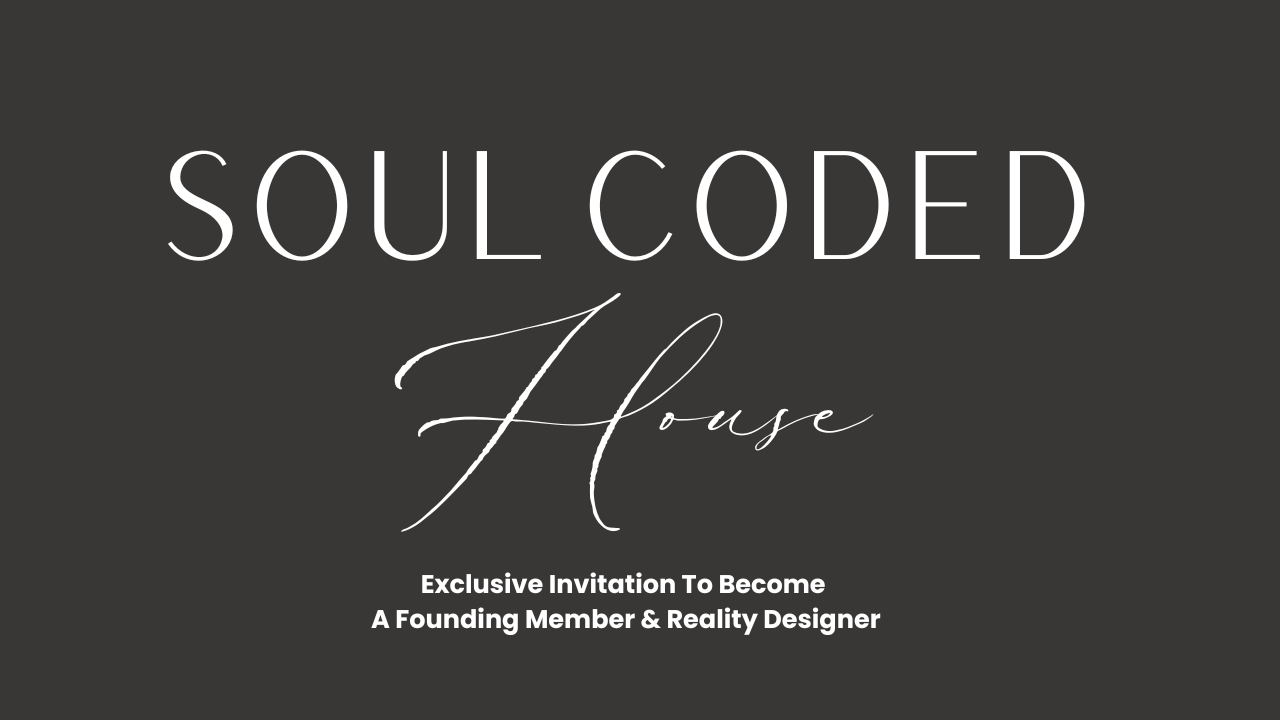 I wanted to let you in on a little secret - we're currently extending an exclusive invitation to become one of the FOUNDING MEMBERS of Soul Coded House.
---
But here's the catch: this offer is only available to the first 100 lucky individuals.
---
Now, I know what you're thinking - why should you join as a founding member? Well, not only will you be part of an incredible community of like-minded souls, but you'll also have access to a whole year of:
- Live Monthly Online Sessions to deepen your clarity and openness to receiving what you want.
- Access to Masterclasses designed to activate your capacity to create a greater positive impact in your world.
- A beautifully designed online destination with amazing content, crafted to bring instant and powerful shifts to your mindset, energy, and motivation.
- Effective and fast-working strategies based in energy medicine and energy psychology.
- Meditations that make all the difference to your state of mind and presence.
- Sound mantras to help you embody your greatness.
- Opportunities for your £222 investment to be used as a discount on any other program of higher value within Soul Coded.
-  Access to a growing community of the very best humans doing exciting things as they follow their soul guidance.
- And so much more...
But here's the thing - once these founding spots are gone, they're gone.
And although it won't be quite as sweet a deal – there's still an opportunity for you to join at £111 per month.
The value on offer to you is HUGE!
So don't wait another moment! Take action now and secure your spot.
Trust me when I say this is an opportunity that could change everything for you.
Join us at Soul Coded House today!
FOR ONLY 
£222